#MusicMonday: @BigTqmb #NWX #MrChilakaboo #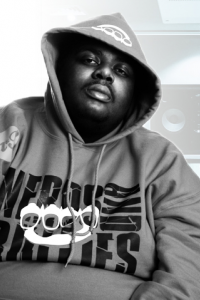 Ok this Monday we are dealing with the defacto leader of this new NWX movement, the gun sound king, Mr Chilakaboo Big T.
As battlers, the music is often overlooked and overshadowed by there battlers, and Big T carries a shadow bigger than most. Big T has shown an above average ability on writing tracks compared to allot of his battle competition. Whether its battle tracks thrown at Dott Mobb, or mixtape bangers and club hits, Big T is one investment or proper co sign away from being a big industry splash ( pun intended).
So check out some of the tracks from Big T.
\
Big T #BlackFriday Mix-tape have Appearances From Certain artist Such As Glc, King Samson, Okwerdz, AyeVerb Math Hoffa Young Collage Yung Lion Prince Lord M-O Cadillac Cam Non -Sense Production 
From WildBeat Teams ,Chase Moore Vybe Beatz ,Rio Prod Yung Capo
Respond back what you think of him as a artists, as a battler, or if you agree or disagree with my breakdown of him or any other artists.
Let me know who else or what else you would like to see featured in the blog